Appearing on the Workshop Stage in the Centennial INSPIRATION Building January 17-19, 2020!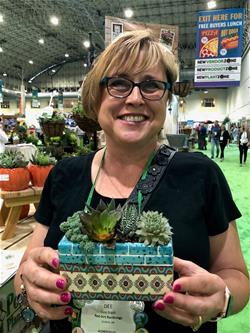 Dee Nash is an author, speaker, and garden coach, born and raised in
Oklahoma. She lives with her husband in a log cabin on 7.5 acres between the Great American Prairie and the beginning of the deciduous forest. She gardens approximately an acre and a half growing vegetables, herbs, fruit trees, roses, daylilies, native plants, and other favorite perennials. She is a regular columnist for Oklahoma Living Magazine. Dee has also written for Organic Gardening, Fine Gardening, flower magazine, The Oklahoman, and The Daylily Journal, along with the GardenComm's Quill & Trowel, and Lowe's Corporation under their Lowe's 'Creative Ideas Team' blog.
Visit Dee's website to view her Red Dirt Ramblings garden blog: